Fuwan Property
Hydrogeology
Minco Silver released the results of a Hydrogeology Report on December 4th, 2007. Independent engineering firm SRK Consulting was contracted in July 2007 by the Company to provide hydrogeological services to support those being provided by Minco Silver's local consultants, the 757 Exploration Brigade Team.
Based upon the available data, important conclusions from the report include the following:
Initial testing, done to date, at the Fuwan Silver Deposit has not indicated that excessive water inflow would be encountered during mine development.


Testing done to date indicates that the Xijiang River appears to be poorly connected hydraulically with the proposed underground mine envelope.
As of the News Release date, 18 hydrogeological test holes have been drilled to test the connectivity of the various structures in place at Fuwan. Pumping tests from open holes have returned varying inflow rates from 0.25 m
3
/day to 1,300 m
3
/day (0.003 L/s to 15 L/s) with varying related drawdowns in each test hole.
As outlined in the recent Preliminary Economic Assessment, completed by SRK, the proposed mining area is located approximately 600 m west of the Xijiang River, and 600 m south of the Changkeng Ditch and is contained within an envelope between sections 43W and 16E. Exploration drilling indicates that mining will proceed in a southwest direction away from the river.
A map outlining the above features is provided below: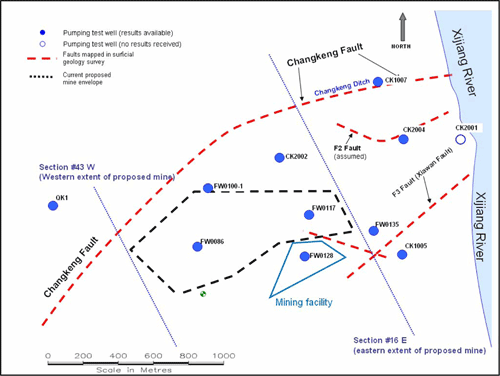 Click to Enlarge
View the Complete News Release in PDF Format:
/i/pdf/2007-12-04_NR.pdf
For further information, please see our
43-101 Technical Reports page
and then follow the link to our NI 43-101 Technical Report dated October 23, 2009 and January 24th 2008.