Fuwan Property
Overview
(click to enlarge photos)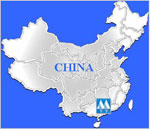 Project Location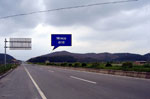 Drill Rig Location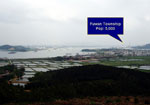 Fuwan Township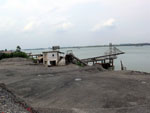 Shipping Port Adjacent to Project

Local Power Plant
Location
The Fuwan Silver Project is located in Gaoming Country approximately 45 km southwest of Guangzhou City, the capital of Guangdong Province, and the fourth largest city in China with a population of 13 million people. The property is adjacent to Minco Gold Corporation's Changkeng Gold Property.
Permits
The Company holds three exploration permits, totaling 125.74 km
2
. The first, the Luoke-Jilinggang, is 57.16 km
2
in size and held by Foshan Minco, while the other two permits, the Guyegang permit totaling 55.88 km
2
and the Hecun permit totaling 12.7 km
2
, are held by Minco China in trust for Foshan Minco. To date, the Company has only worked on approximately 2.8 km of a 10 km strike length.
Deposit
The Fuwan silver deposit falls into the broad category of sediment-hosted epithermal deposits and is characterized by 8 zones of vein and veinlet mineralization within structural zones which have wide spread zones of silicification.
The deposit currently has estimated reserves of 9.118 Mt averaging 189 g/t Ag which is expected to sustain an underground operation, of 3,000 tpd, for a mine life of 9.2 years. There is potential to expand the reserves if the current indicated resources of 6,857,000 t averaging 173 g/t Ag for 38,203,000 ounces and the inferred resources of 11,290,000 t averaging 174 g/t Ag for 63,283,000 ounces of silver (Changkeng property included) are successfully upgraded. Only approximately one-third of the 10 km long Fuwan belt has been explored to date with drilling and there is a good exploration potential to find new resources which could also potentially expand the mine life.*
Infrastructure - A Miner's Dream
Unlike most mining properties, the Fuwan property is one of the few mineral projects with significant infrastructure in place, which is expected to save the company tens of millions of dollars in development costs.
Transportation is made easy with a four-lane highway that passes by the property and labour is readily available within the town of Fuwan (pop. 5,000) and nearby Gaoming City (pop. 100,000). Water and telecommunications are readily accessible and a high-voltage power line crosses the property. The adjacent Xijiang River also provides access to the South China Sea, which serves as an international waterway for shipping.
Easy access to a shipping channel also facilitates the disposal of waste rock and carries with it a significant economic benefit. The Company has been approached by several construction companies from Guangzhou City to purchase the waste material for gravel and construction materials with prices ranging from US$2.50 to US$4.50 per tonne. While capable of reducing mining costs, the company has neither reached agreement with any company nor factored these costs savings into their mine development plans.
Ownership
The Company currently has a 90% beneficial interest in the shares of Foshan Minco Mining Co. Ltd. ("Foshan Minco") in the Fuwan Silver Deposit, situated along the northeast margin of the Fuwan Silver Belt in Guangdong Province, People's Republic of China ("China").
For further information, please see our
43-101 Technical Reports page
and then follow the link to our NI 43-101 Technical Report dated October 23, 2009 and January 24th 2008.