Minco Silver Corporation (the "Company" or "Minco Silver") (TSX: MSV) is pleased to report the start of the regional exploration program along the highly prospective Fuwan Silver Belt. To date, Minco Silver has focused on the Fuwan Silver Deposit, containing a NI 43-101 compliant Indicated silver resource of 93.5 million ounces and an Inferred silver resource of 63.3 million ounces. The Company's exploration permits cover more than 200 square kilometres and include the Fuwan Silver Deposit which extends for approximately three kilometres (km) and lies within the 10 km long Fuwan Silver Belt.

The planned regional exploration program budgeted at Cdn. $2.5 million will consist of the following:
Detailed structural and geological studies of the entire Fuwan Silver Belt.
300 km of detailed ground magnetic survey over 70% of the Fuwan Silver Belt.
30 km of dipole-dipole induced polarization survey.
10,000 m of diamond core drilling to test the main target areas: the Luzhou and the Dieping areas.
Previous geochemical surveys consisting of 50,000 individual soil samples and geological surveys conducted over the entire Fuwan Silver Belt by the 757 Exploration Team resulted in several significant gold and silver anomalies. The 757 Exploration Team also completed exploration drilling on the Dieping and the Luzhou areas. The historical assay results are highlighted by the following intersections:
Dieping ZK21401: 181.4 g/t silver over 8.01 metres and 191.8 g/t silver over 4.8 metres
Dieping ZK21502: 119.0 g/t silver over 6.71 metres
Luzhou ZK7501A: 568.1 g/t silver over 2.87 metres
Luzhou ZK10001: 128.0 g/t silver over 2.53 metres
The geophysical survey is currently underway and is being conducted by Geosan, LLC, of Ulaanbatar, Mongolia. Geosan is a very experienced geophysical exploration company and has conducted numerous surveys for significant exploration companies in Mongolia.

Minco Silver is encouraged by the favourable geology and previous exploration results reported by the 757 Exploration Team on the Fuwan Silver Belt. The current exploration program could potentially lead to the discovery of additional silver deposits on this World Class Fuwan Silver Belt.

Please visit the Company's website at www.mincosilver.ca to view a map of the Fuwan Silver Belt and main target areas.

Mr. Dwayne Melrose, P. Geo, Vice President Exploration for Minco Silver, has reviewed this news release and is the Qualified Person responsible for verification and quality assurance of the Company's exploration data and analytical results.

About Minco Silver

Minco Silver Corporation (TSX: MSV) is a TSX listed company focusing on the acquisition and development of silver dominant projects in China. The Company owns 100% interest in the World Class Fuwan Silver Deposit, situated along the northeast margin of the highly prospective Fuwan Silver Belt. The Company is the exclusive vehicle for pursuing silver opportunities in China pursuant to a strategic alliance agreement between Minco Gold Corporation (TSX:MMM/AMEX:MGH/FSE:MI5) and Silver Standard Resources (TSX:SSO). For more information on Minco Silver, please visit the website at www.mincosilver.ca or contact Ute Koessler at 1-888-288-8288 or (604) 688-8002 ir@mincomining.ca.



ON BEHALF OF THE BOARD

"Dr. Ken Z. Cai"

Chairman & CEO



The Toronto Stock Exchange does not accept responsibility for the accuracy of this news release. Certain terms or statements made that are not historical facts, such as anticipated advancement of mineral properties or programs, productions, sales of assets, exploration plans or results, costs, prices, performance are "forward-looking statements" within the meaning of the Private Securities Litigation Reform Act of 1995, and involve a number of risks and uncertainties that could cause actual results to differ materially from those projected, anticipated, expected or implied. These risks and uncertainties include, but are not limited to; metals price volatility, volatility of metals production, project development risks and ability to raise financing. The Company undertakes no obligation and has no intention of updating forward-looking statements.



Click to Enlarge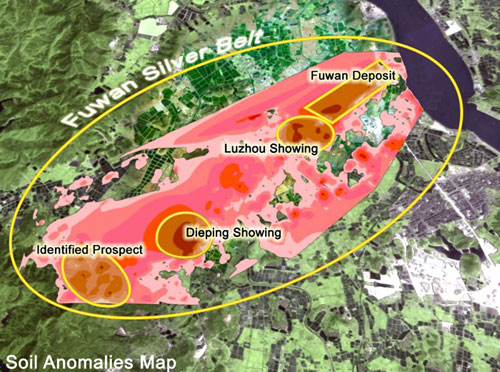 You can view the Next News item: Tue Jul 15, 2008, Minco Silver Provides Update on Bankable Feasibility Study and Permitting at Fuwan
You can view the Previous News item: Mon May 12, 2008, Minco Silver Announces a 31% Increase in the Indicated Resource on its Fuwan Silver Project
You can return to the main News page, or press the Back button on your browser.